About
Experienced direction of art for outdoor advertising, print media, packaging, marketing direct, web architecture, requiring a high level of creativity.
Ervaring in de richting van buitendeurse reclame, gedrukte media, produkt verpakking, directe marketing en web architecture, vereisen een hoog niveau van creativiteit.
Amplia experiencia Dirección de arte para publicidad exterior, medios impresos, empaques, mercadeo directo, arquitectura web, lo que requiera alto nivel de creatividad.
Member since: March 17, 2014
Reviews
"He recognized the requirements correctly and implemented them perfectly. The first draft worked right away, except for a few spelling mistakes. The communication was very fast and uncomplicated. "
klauB
reviewed 3 months ago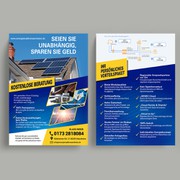 "I am 100 % satisfied and would like to thank you for the great cooperation instead of this. The designer sets great value on customer satisfaction and it's obvious that lifeblood is in his designs. Cooperation? Each time again! Greetings from Dü..."
svenja.maidorn
reviewed over 6 years ago
"A really excellent designer! Auch nach Ende des Wettbewerbes steht er einem mit Rat und Tat zur Seite! Ich hätte mir für meinen Wettbewerb keinen besseren Designer wünschen können! I really hope to work together again! Thank you sooo much."
a.fruhstorfer
reviewed almost 7 years ago