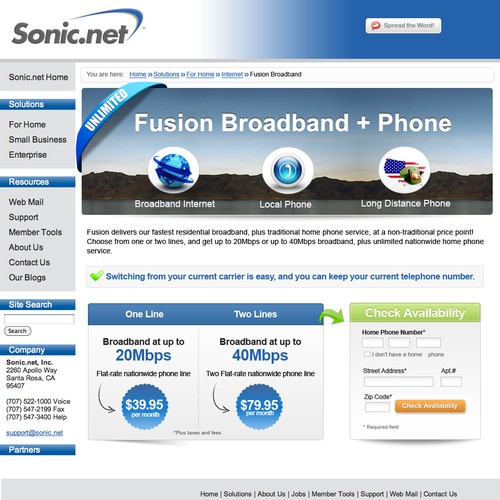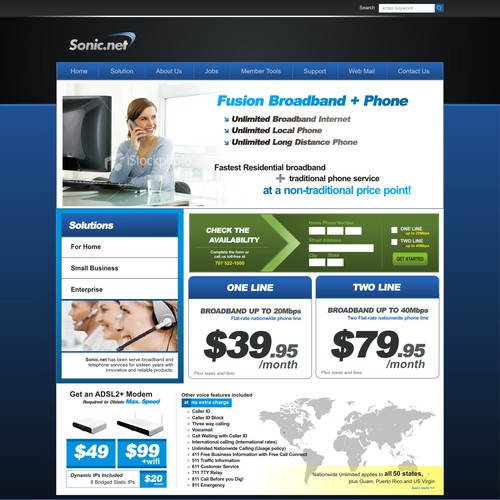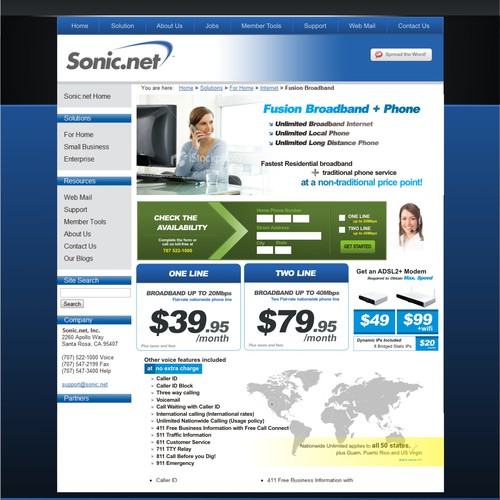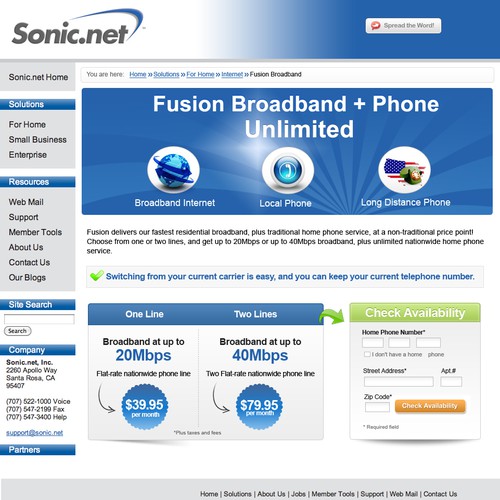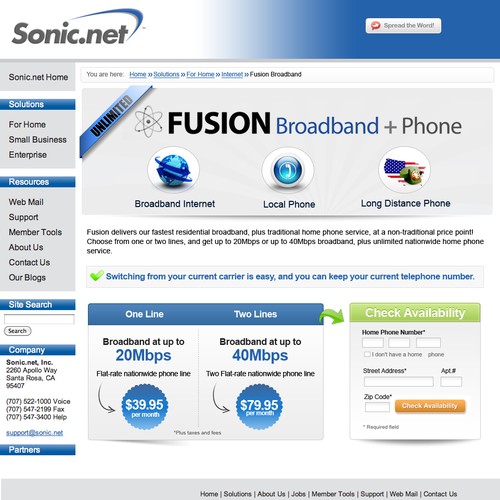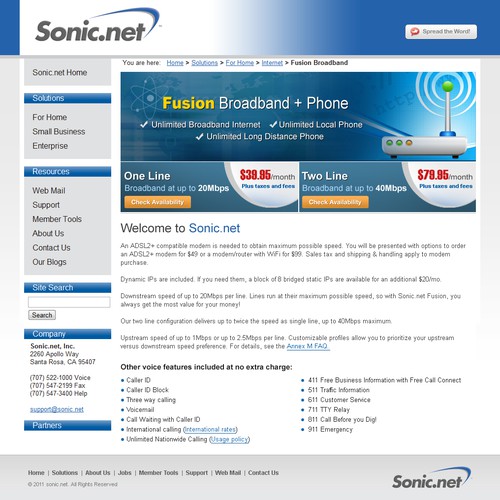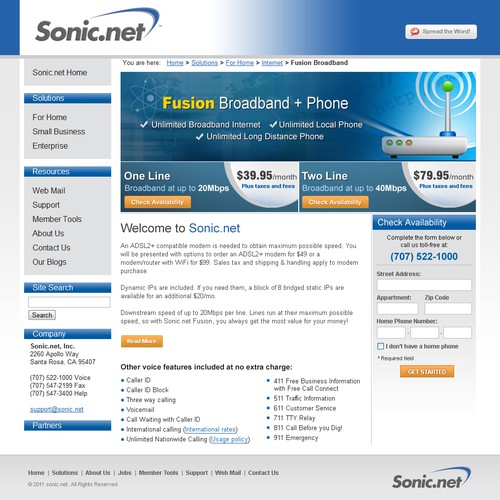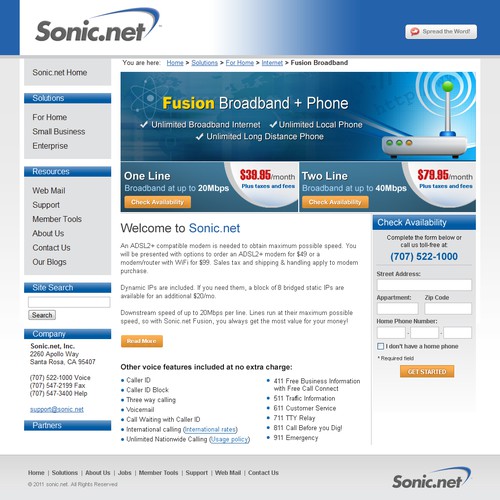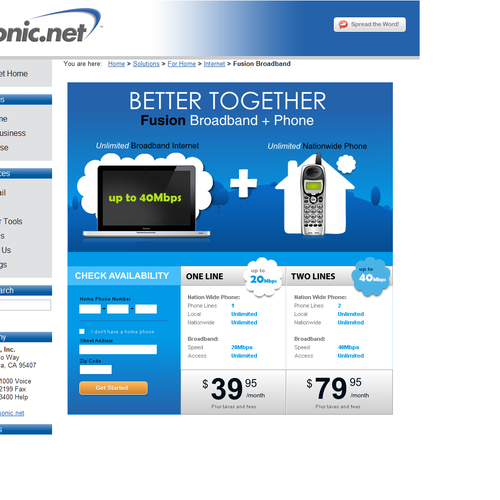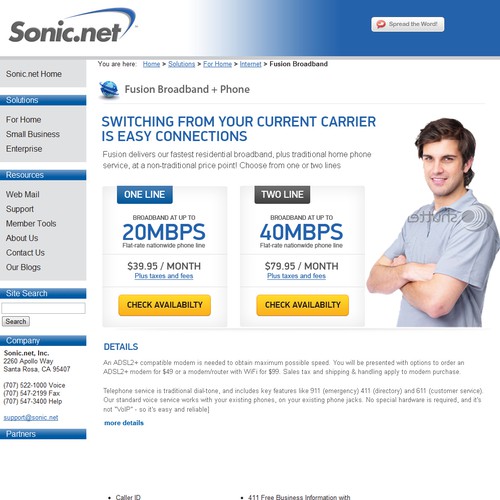 One of the designers who made it happen
Winner - DesignMyTemplate.com
- Anonymous
How Dane Jasper started their web page design journey
Company name
Sonic.net Fusion Broadband + Phone
Overview
Sonic.net is a sixteen year old mid-sized regional service provider. We're based in Santa Rosa CA, just North of the SF Bay Area. Our team of 100 staff work hard to deliver amazing customer service along with innovative and reliable products. Our products include broadband and telephone services.
Tell us a bit about who you are and the people you reach
Our target audience for this product is residential customers who are looking for the best broadband and phone service at a great price point. Potential customers might be paying another provider a lot more money for similar services.
The service is available throughout much of the greater Bay Area, including the East Bay, Peninsula and Sonoma/Napa.
Requirements
Our current page for this product is text-heavy, and we'd like to move away from that. Design will require some good copy-writing, so points for that! We'll retain our current top and side bars, so design should fit within those. Please take design cues from existing colors including logo and buttons.
Page descriptions
This page is the Fusion Broadband + Phone sales page. The current page provides a rather exhaustive text overview, plus boxes for each of the two product configurations (single line and two line) and their price points. It links to "check availability", which begins the process of determining if we can serve a customer.
I would suggest the new design be far less text, so the winner of this contest will likely spend some time doing copy writing and editing of our current copy down to a compelling form.
The new design should incorporate the availability checking input template on the page itself, as our competitive example sites linked here do.
The design should communicate the value of the product at a glance with compelling graphics and imagery. Please avoid overused or cheesy stock imagery. No agent in a headset or man on a beach please! :)
Existing website
Current page is:
http://www.sonic.net/solutions/home…et/fusion/
NOTE: PRODUCT PAGE WE ARE ASKING FOR DESIGN FOR MUST BE PLACED INSIDE OF CURRENT TOP/SIDE DESIGN & NAVIGATION! WE ARE NOT LOOKING FOR A REDESIGN OF THE ENTIRE SITE, JUST THE PRODUCT INFO FOR THIS PAGE!
A frame capture has been provided for you to use to incorporate your design into.
Paid features
Featured listing

Twitter promotion
Free features
Blind contest

Fast-tracked
We've found some similar contests you might like