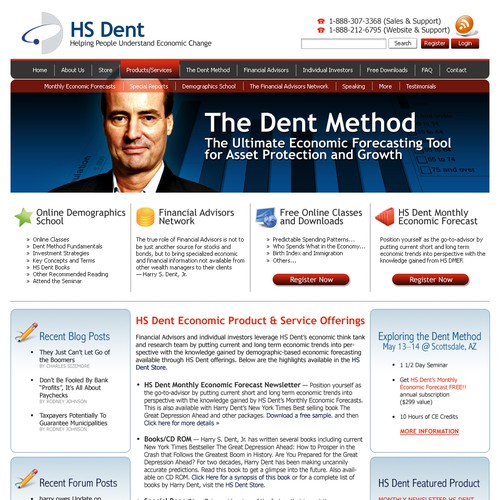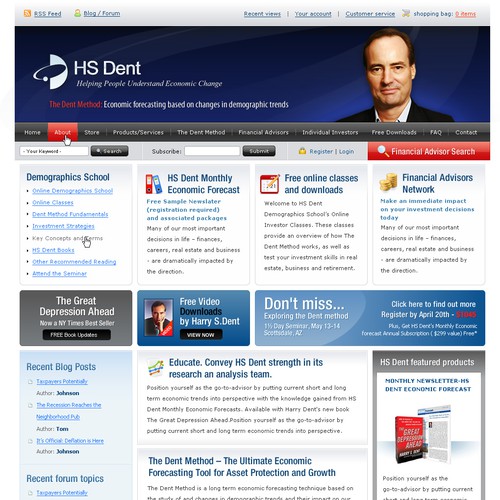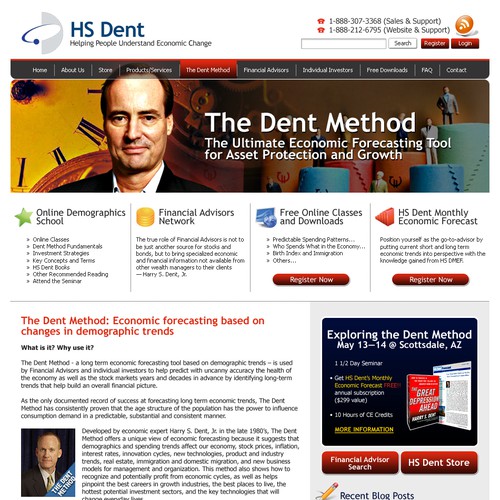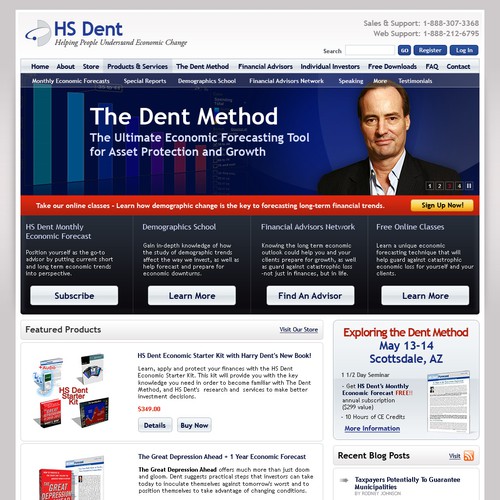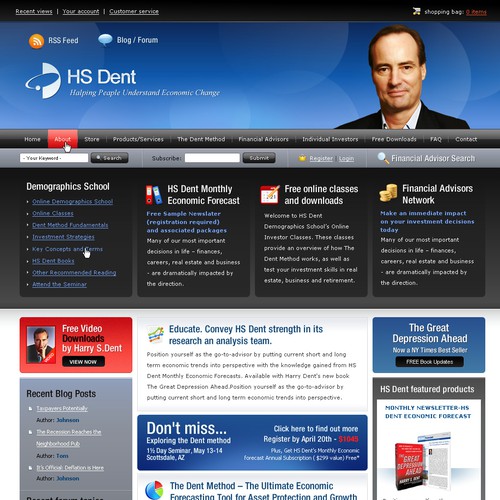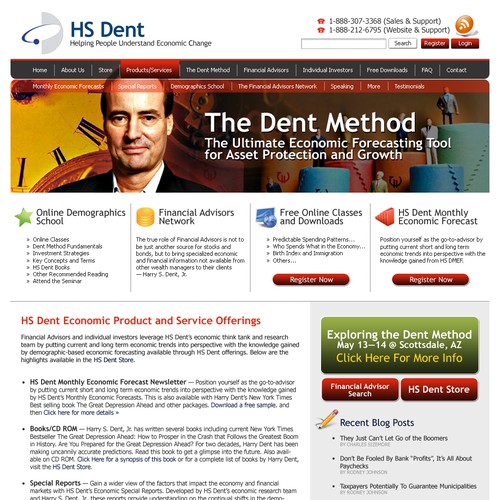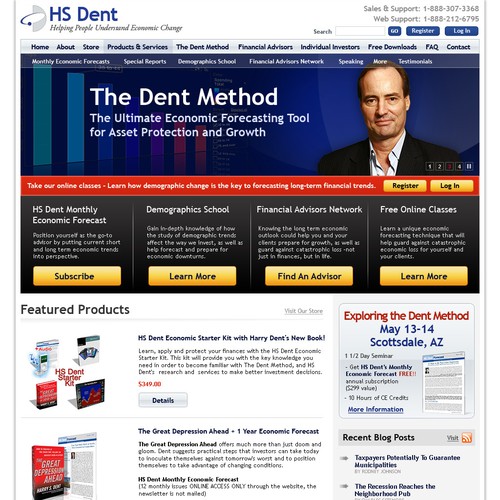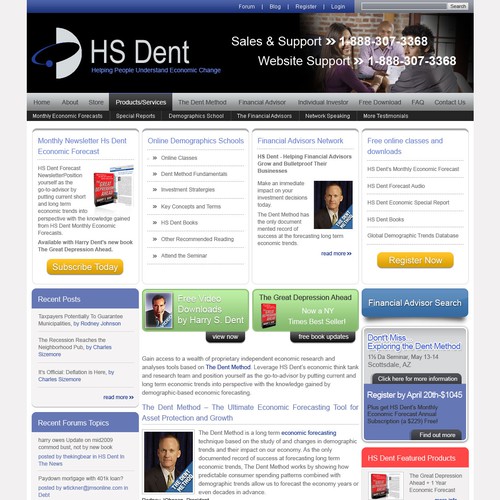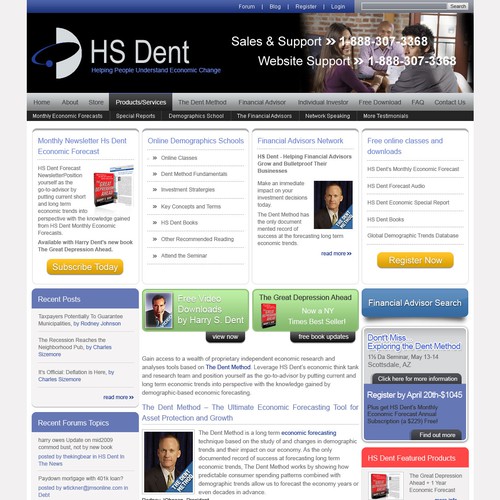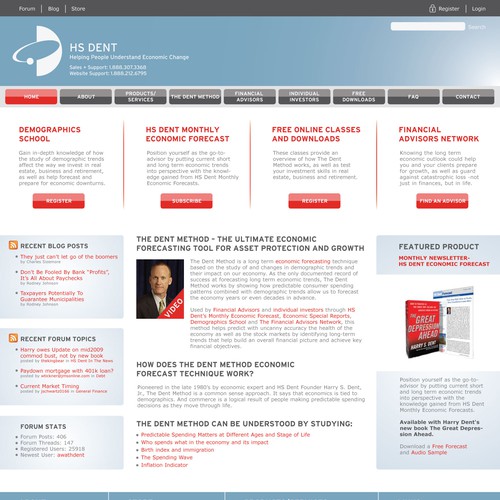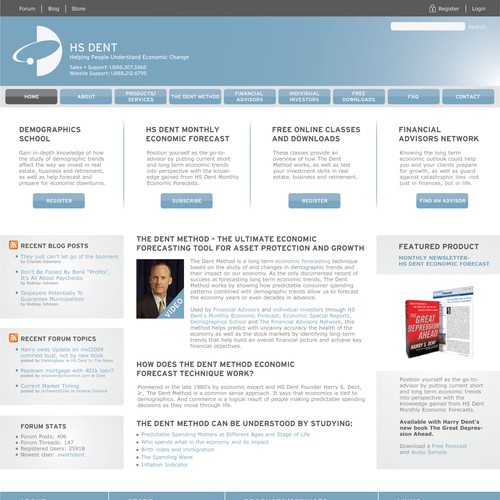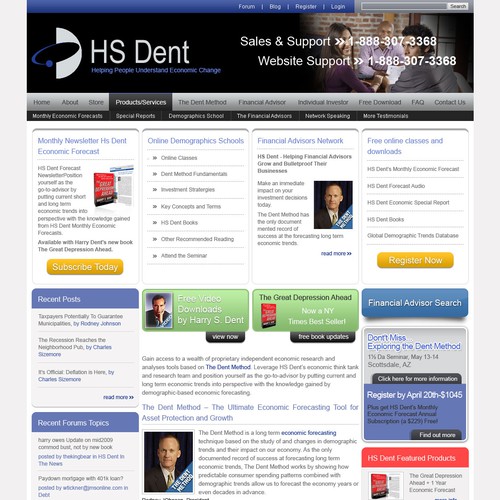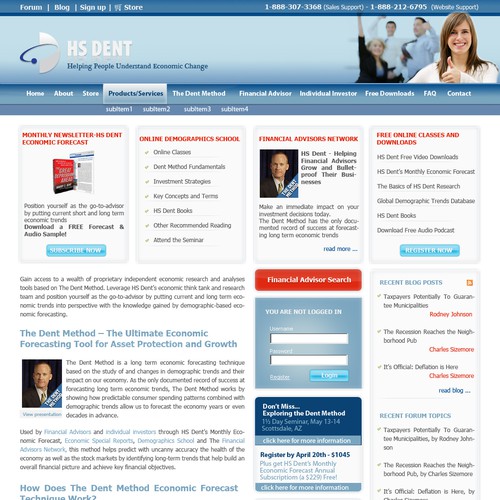 One of the designers who made it happen
Winner - kelly_hero
- assistme
How TOCARTE started their web page design journey
Summary
HS Dent is a fast growing independent economic research and analyses company. HS Dent's, Harry Dent, author of "The Great Depression Ahead," a "New York Times" Best Seller requires a fresh web 2.0 design for its Internet presence.
Company name
What inspires you and how do you envision the design for your business?
HS Dent is a proprietary independent economic research and analysis company that currently targets both financial advisors and individual investors who are seeking financial research to determine short and long term investment strategies.  This audience is not tech savvy. Age range is 45-65 mostly male. About 80% are in the US and remainder in Canada and Europe.  The audience works with portfolios valued at around 300k+. We don't want to alienate our current base, but we are interested extending our reach by targeting ages 35+ who are much more tech savvy.
Wants
- Home page Objectives:
1. Utilize the Blueprint CSS framework, http://www.blueprintcss.org <http://www.blueprintcss.org/>
2. Draw on one / both of the following color palettes
   2.1 kuler.adobe.com <http://kuler.adobe.com/#themeID/428235>
   2.2 kuler.adobe.com <http://kuler.adobe.com/#themeID/425223>
3. Reinforce the HSDent brand by including the logo
-    3.1 An AI version of the HS Dent logo can be found here, http://www.hsdent.com/99designs/hsdentlogo.ai
   3.2 Header must also include phone number
-    3.3 Effective use of the page footer, for example, http://online.wsj.com/
4. Communicate our 4 key product offerings very quickly/effectively and simply. Should be VERY simple clean looking. Feel like a web 2.0 consumer site rather than overly wordy corporate site. See: http://www.seekingalpha.com <http://www.seekingalpha.com/> as an example. 4 key product offering;
   4.1 HS Dent Monthly Economic Forecast, Free Sample Newslater (registration required) and associated packages
   4.2 Demographics School
   4.3 Financial Advisors Network
   4.4 Free online classes and downloads (registration required)
5. Educate. Convey HS Dent strength in its research an analysis team
6. Navigation considerations:
   6.1 A Hero Box for specific promotions and calls to action, TV/Radio specials/shows, etc.
   6.2 A promotional column for ongoing specials, blog/forum
   6.3 An area for promoting what's happening in the blog via Headlines
   6.4 Login and Registration buttons that stand out from the normal site content / colors probably located in the upper right. We might be able to simply the UX associated with Registration and Login buy moving to an CSS / DIV-driven model. Look at how these two sites handle registration and login events. http://vark.com/, http://www.seekingalpha.com.
   6.5 Financial Advisor Search button that stands out
   6.6 A Store area that stands out so when people go to the site they see there is a STORE to buy products
7. SEO Friendly
Free features
Open contest

Guaranteed

Fast-tracked
We've found some similar contests you might like