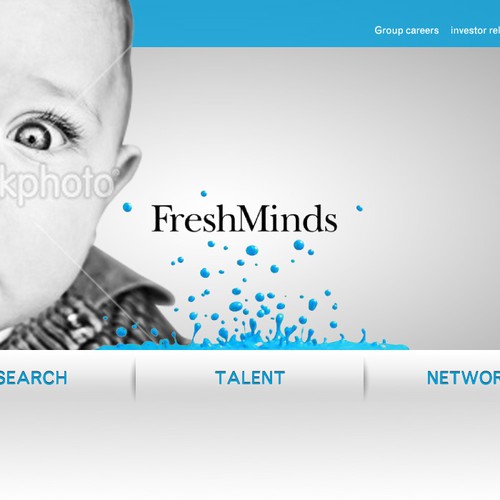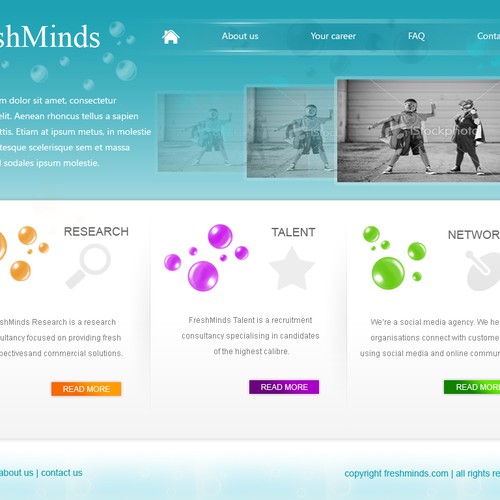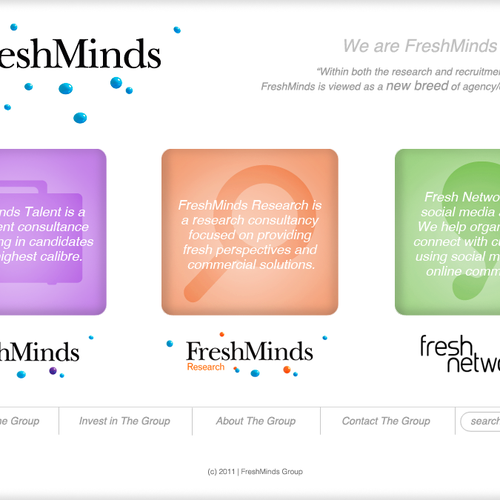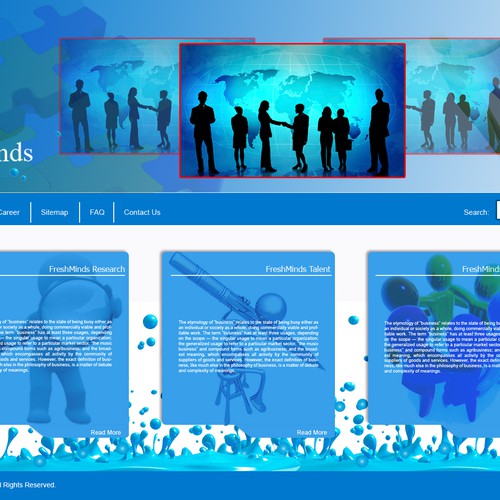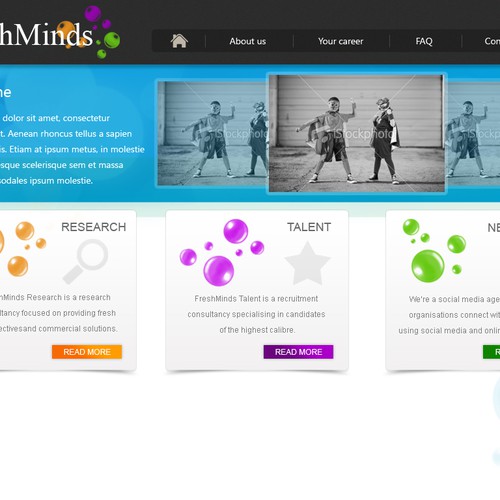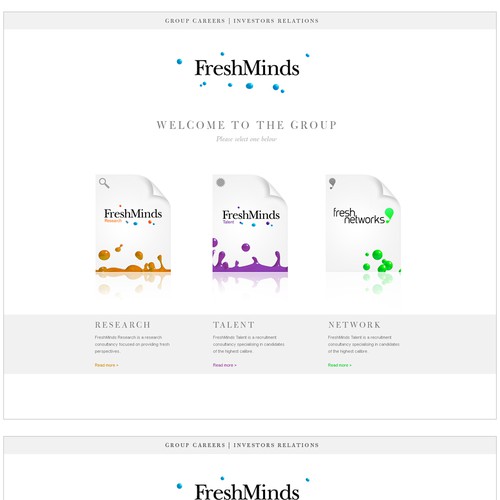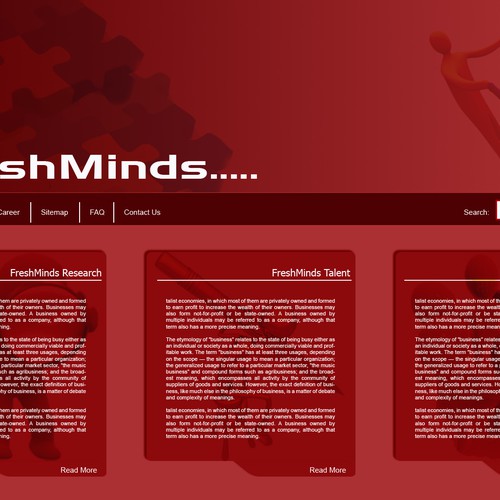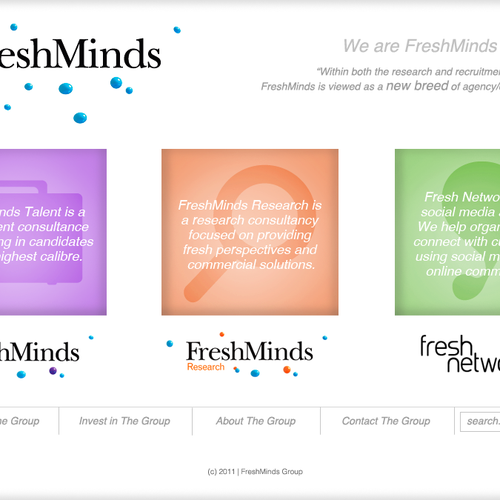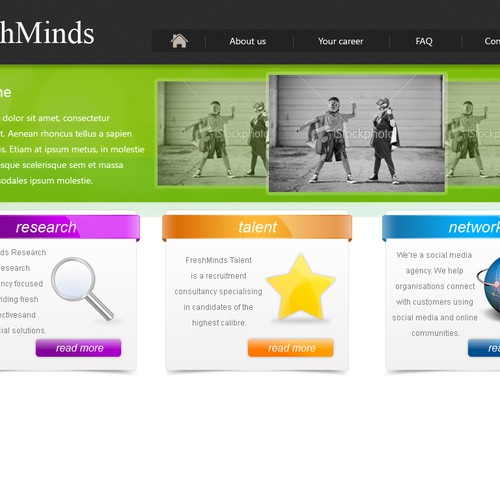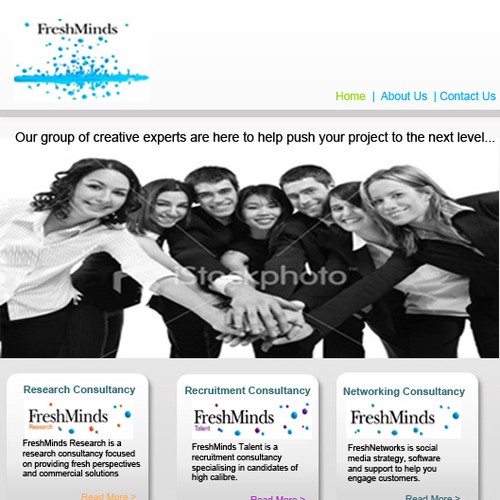 How Nikki Carlisle started their web page design journey
Overview
FreshMinds Group is made up of three business units: FreshMInds Research - a market research consultancy speacialising in strategic ad-hoc projects; FreshMinds Talent - a recruitment consultancy for high fliers; and FreshNetworks - a social media agency. The FreshMinds Group and the Research and Talent business units share a refreshed brand identity (see attached). (Whilst the FreshNetworks image is completely seperate and out of scope of this project) Within both the research and recruitment industries FreshMinds is viewed as a new breed of agency/consultancy. We want to maintain that and continue to challenge the industry. "Rigour and Flair" does sum up the brand personality. Other words that feed into it are:
> Challenging
> Creative
> Dynamic
> Smart/Clever – sometimes dauntingly so
> Always done something interesting at the weekend
> Personable
> Refreshing
> Genuine
> Elegant Simplicity
> Innovative
Tell us a bit about who you are and the people you reach
We have different audiences for Research and Talent:
Research: Potential clients = UK Consumer Insight or Marketing Managers.
The website needs to convince the user to call or email in with a relevant research enquiry. It does not need to 'close the sale' so the key is to get the balance of information correct. So to convince a research buyer to call the website needs to demonstrate:
>The quality of the clients we work with and the quality of the work we do
>The unique experience of working with FreshMinds – fresh thinking, challenge, exceptional client service and commercial focus
Talent:
Hiring manager – highly intelligent and discerning, needs information quickly, experienced buyer of strategy consultants. Looking for topline information as to our effectiveness in a business, dynamic.
HR manager – looking for handholding, evidence of processes, safe pair of hands, more touchy-feely. Wants other client information, testimonials, salaries, job functions.
Candidate – wants to get to jobs information and application process as quickly as possible. Needs to know we are very high quality and work with great clients.
Requirements
We think our website sucks. We want a new one that better reflects our values and feels more innovative. We like our new brand identity; it reflects our new brand essence: rigour and flair. Our USP is combining freshness and smart, commercial minds.
We need you to help us create a home for FreshMinds that:
> Stands out
> Represents who we are
For this contest we are looking for ideas of how we can best apply our new brand image to a website. Currently the site is dull, and very straighforward - i.e. there is nothing particulary innovative about the design - essentially it's our logo stuck on a white page! In fairness we haven't really found our brand image design wise. We have our logo, which we have applied to different collateral but that has as far as our design as gone so far.
The specific requirement is to design the Group homepage and show us how you would re-design it to make it stand out from the crowd and reflect our brand values.
Page descriptions
1) The Group home page (currently http://www.freshminds.co.uk).
It needs to give the user three clear choices:
1) Access to the Research site
2) Access to the Talent site
3) Access to the FreshNetworks site
It also has to have navigation to a Group careers section and investor relations.
It also needs to make clear that this is a Group site and that for more details about the three services areas you need to navigate to their specific sites.
Existing website
Free features
Open contest

Guaranteed

Fast-tracked
We've found some similar contests you might like