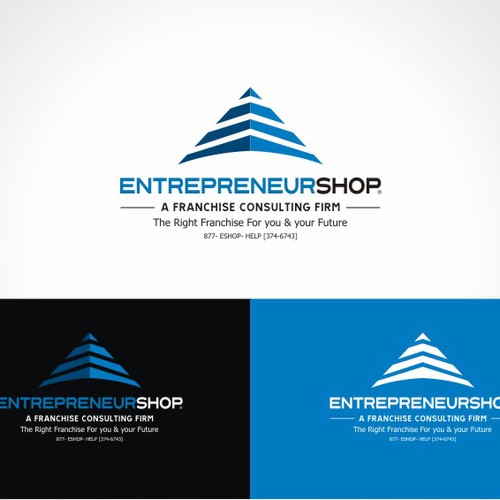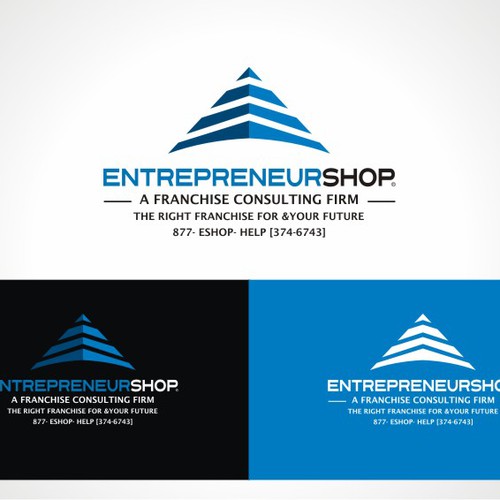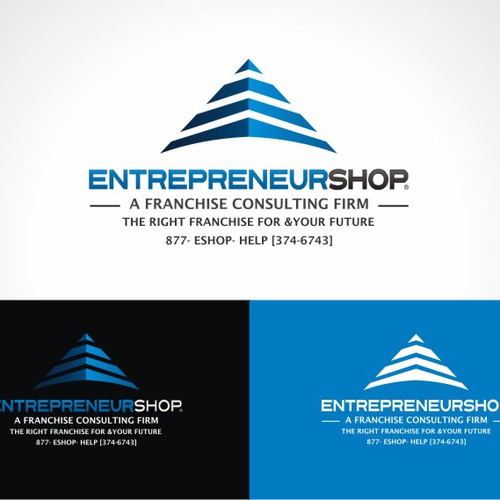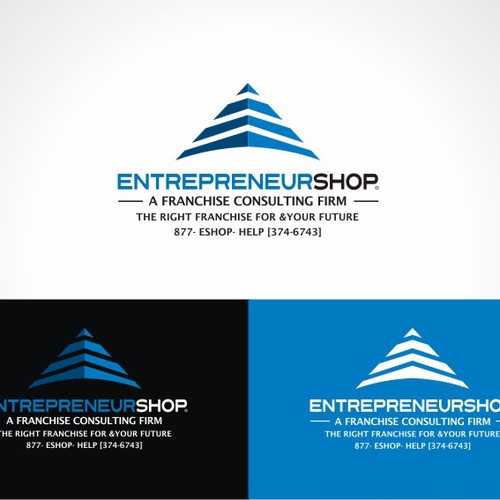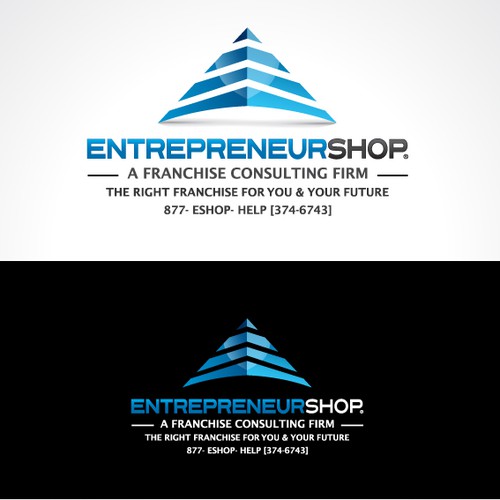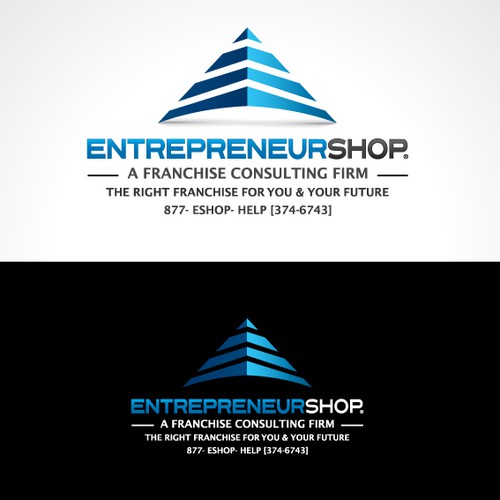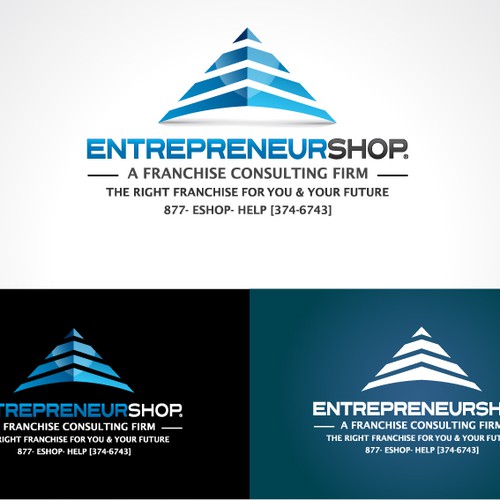 How Entrepreneurshop started their logo design journey
Overview
I AM A 25 YEAR OLD ENTREPRENEUR. I AM TRYING TO CREATE A COMANY THAT PROVIDES FRANCHISE CONSULTING, FRANCHISE SALES, FRANCHISE DEVELOPMENT, IN THE MOST PROFFESSIONAL WAYS POSSIBLE, BUT ALSO INCORPORATE CUTTING EDGE LOGOS, TECHNOLOGY, AND BUSINESS SYSTEMS ETC. I WANT THIS LOGO TO HAVE SUCH AN APPEAL TO THE EYE THAT WHEN PEOPLE IDENTIFY THE WORD ENTREPRENEURSHOP AND THE PYRAMID INSIDE THE LOGO, THEY ARE ATTRACTED TO IT, INSPIRED BY IT, AND KNOW WHAT EXACTLY WE DO, AND WHAT WE HAVE TO OFFER THEM. I WANT THE AUDIENCE TO IDENTIFY WITH THE BRAND, AND AFTER THEY SEE THE LOGO, THEY WILL BE THINKING OF IT FOR SOME TIME UNTIL THEY CONTACT THE COMPANY. WE ARE TRYING TO GET ACROSS TO PEOPLE WHO HAVE ALWAYS WANTED TO BE ENRTREPRENEURS BUT NEVER HAD THE CHANCE, FROM YOUNG TO OLD, TO CORPORATE AMERICA. ENTREPRENEURSHOP GOES THROUGH THE PROCESS OF IDENTIFYING A PERSONS SKILL SETS, AND NET WORTH AND THEN AWARDING THEM THE BEST FRANCHISE SYSTEM POSSIBLE BASED ON THEIR INTERESTS AND NEEDS.
Tell us a bit about who you are and the people you reach
THE TARGET AUDIDENCE ARE YOUNG ENTREPRENEUR'S WHO CAN IDENTIFY QUALITY WHEN THEY SEE IT. THEY CAN IDENTIFY A CUTTING EDGE COMPANY, THAT THEY WANT TO BE A PART OF. THIS MARKET IS MOST IMPORTANT TO US, YOUNG RECENT COLLEGE GRADUATES AND YOUNG PEOPLE WHO WENT TO CORPORATE AMERICA, BUT ALWAYS WANTED TO OWN THEIR OWN BUSINESS. WE ARE YOUR ONE STOP SHOP, FRANCHISE SOURCE.
Requirements
- MAKE THE PYRAMID HAVE DEPTH, CHARACTER, SHINE, ILLUMINATE, 3-D, MAKE IT BE THE FOCAL POINT TO WHERE PEOPLE CAN IDENTIFY THAT IF THEY ARE CONSULTED THROUGH US, THEY WILL BE ON TOP, CREATE THEIR DREAM BUSINESS, AND BECOME WEALTHY!
-MAKE THE ENTREPRENEURSHOP FLOW REALLY WELL AND MATCH THE PYRAMID, I LIKE THE WORD ENTREPRENEUR IN BLUE AND THE SHOP IN BLACK, BUT MAYBE MAKE THE TWO WORDS CONTRAST BETTER, MAKE THE NAME POP OUT AND FLOW WITH THE REST OF THE IMAGE.
-MAKE THE WORDS " A FRANCHISE CONSULTING FIRM" LOOK PROFFESSIONAL BUT STILL HAVE SOME CHARACTER
- OUR SIGNATURE IS "THE RIGHT FRANCHISE FOR YOU & YOUR FUTURE" THIS DESCRIBES WHAT WE DO. I LIKE THE SLOGAN AND NEED TO KEEP IN PROFFESSIONAL
- LASTLY IS OUR TOLL FREE NUMBER 877-ESHOP-HELP (374-6743) THIS DOESNT HAVE TO BE ANYTHING SPECIAL, BUT JUST MAKE IT LOOK NICE AND FLOW, WITH THE SAME COLORS IN THE LOGO, AND EASILY IDENTIFYABLE FOR FUTURE BRANDING PURPOSES.
- I WOULD REALLY LIKE TO SEE THE PYRAMID THE FOCAL POINT OF THE IMAGE DESIGNED REALLY NICELY WITH SOME 3-D LOOK TO IT, AND MAKE THE NAME ENTRPRENEURSHOP FLOW REALLY WELL WITH THE PYRAMID, AND THEN INCOPORATE THE FIRM, SLOGAN, AND TOLL FREE NUMBER INTO A REALLY GREAT LOOKING MEMBORABLE, EASY TO BRAND SYMBOL,
PLEASE CALL ME WITH ANY QUESTIONS 916-247-5453
Free features
Open contest

Fast-tracked
We've found some similar contests you might like